1. Translated Fragments, Fragmented Translations
| | |
| --- | --- |
| | We became deer. |
| | Grazed forests intelligently. |
| | Undertook journeys after careful planning. |
| | Fought wars with martial perfection. |
| | Applied all our attentiveness |
| | in understanding issues |
| | and set aside countless carelessnesses |
| | for the rare, |
| | momentary, |
| | unexpected |
| | moments of love. |
| | —Katyayani, "Samajh" |
If the politics of alliance making are about making oneself radically vulnerable through trust and critical reflexivity, if they require us to open ourselves to being interrogated and assessed by those to whom we must be accountable, then such politics are also about acknowledging, recognizing, and sharing our most tender and fragile moments, our memories and mistakes in moments of translation, in moments of love. For, it is in the acknowledgment, recognition, and sharing of these moments, memories, and mistakes that we live our trust and faith, and where we often encounter our deepest courage and insights. It is also in these fragile, aching moments that we come to appreciate alliance work as constituted by fragments of journeys—some fully lived, and others abandoned at different stages . . . interrupted passages through which the co-travelers recognize the power of becoming radically vulnerable together. These fragmented journeys are marked as much by opening ourselves up to the risks of becoming wounded, as they are marked by silences and withdrawals, and by returning to forgive and to love—again and again.
In this section, I share excerpts of letters, conversations, poems, and two previously published essays titled "Local and Global" and "Theater of Hopes" from contexts that might seem disjointed on the surface but tell stories that have enabled the arguments I have made in the rest of this book.1
Patches and Quilts/Betrayals and Bonds
It was in November 2010 that I met Piya Chatterjee for the second time (our first meeting was a brief encounter at a gathering hosted by a colleague in Minnesota almost a decade earlier), at a panel that she co-organized with Amanda Swarr for the Annual Conference of the National Women's Studies Association in Denver. There, in one of the very last panels on the final day of the conference, we heard each other speak, were moved by the stories and connections that we could hear and sense, but had no immediate openings (time or space) to explore. Later, in a phone conversation, we decided to continue the process of sharing and discussing through letters. Fragments of these letters, alongside excerpts from essays, journals, and poems—some untouched and some revised since they were first written or published—have found their way into this chapter, for they have allowed me to become radically vulnerable through dialogue with a colleague who is grappling with similar entanglements of power, knowledge, and their possibilities and impossibilities.2
Dear Piya,
It's 3:11 am on the morning of Dec 23rd and I have finally come to terms with the reality that there will be no ideal moment in which I can begin and end this first letter to you. Words will spill only when I selfishly steal time for this writing from difficult memos and emergency emails on faculty matters; from reading promotion and tenure files in Minnesota while remotely organizing a theater workshop in Uttar Pradesh; from trying to grapple with the gravity of complaints from Tarun in Mumbai, my father in Lucknow, and my daughter in Saint Paul that I don't make enough time for the promises that I have made to them; from the temptation to fix the five-month-old leak in my kitchen ceiling so that I do not have to live in David's basement for the rest of this dark long Minnesota winter.3
It all sounds so dramatic (living in starkly different worlds at the same time imbues life with a permanently dramatic quality, doesn't it?), but this writing seems too critical and fragile to postpone or bury under other seemingly urgent worries. After our phone conversation earlier this month, I feel as though I have stumbled on a new ocean of thoughts and memories to work through. I sense an urge to process struggles in my seemingly fragmented journeys as a political, intellectual, and creative being. I feel a need to share stories about feminisms and feminists, about solidarities and betrayals that I haven't dared to repeat for fear of them being misunderstood. I want to share hard truths without worrying about the possibility that they might rebound when they reach the other side. For me our commitment to talk through letters is a simple act of trust that inspires me to relive and remember, to connect and weave in words so many important pieces of life—and death—that I have not allowed to belong together for myriad reasons.
But along with this urge I also hear echoes of the poem by Adrienne Rich that you shared with me:
When my dreams showed signs
of becoming
politically correct
no unruly images
escaping beyond border
when walking in the street I found my
themes cut out for me
knew what I would not report
for fear of enemies' usage
then I began to wonder.4
Like everything else that we struggle with, this letter writing is also about learning our responsibility as translators, as quilt makers who struggle to patch together that which we want to translate with that which should not or cannot be translated.
But how do we make decisions about what to narrate and what to swallow?
How do we learn to let free those unruly images escaping beyond border without fearing that they might empower our enemies?
How do we facilitate what Spivak terms as "love between the original and its shadow, a love that permits fraying"?5
How do we decide which stitch to use for which patch while helping each other to appreciate the broad contours of our stitches—our bittersweet relationships with English, Bangla, Hindi, Urdu, Awadhi, Gujarati, Kiswahili? Some stitches I learned very long ago from my mother and aunts and neighbors, from the women who visited my grandmother every afternoon, and from the teachers in La Martiniere Girls' School, who dismissed pretty much everything I learned in my home and neighborhood. The remaining stitches I workedout by myself as I recognized the value of discontinuity and dissonance, and grappled with the violence that a desire for harmony often inflicts on the very worlds that are in uncomfortable, even frayed, conversations between the original and the shadow, between all that tears us apart in our many homes and worlds.

It is a hot humid afternoon in August 2010. A team of fifteen saathis, women and men, from the Pisawan block of Sitapur have been working with Tarun, Kamal, Shivam, and me almost around the clock for the last several days to create a play that can encapsulate and advance the struggles of SKMS. Working on creating a script, that is predominantly in Hindi (with some songs and occasional phrases in Awadhi) and memorizing the lines that only four out of eleven actors are in a position to read, has been far from easy. The team is sleep-deprived, soaked in sweat, and still going strong. But the long power outage is becoming trying. We break for lunch. Rajendra has been cooking lovingly for us—he has made khichdi. This is not like the khichdi with equal proportions of rice and dal that I often cook myself or consume at Richa Singh's home right here in Sitapur. This is a big vessel of rice mixed with less than a cup of dal, and it is served with mustard oil, salt, and hari mirch on the side. As I eat this khichdi, I realize that I won't eat my next meal with the group later that night because Richa Singh and I plan to work at her home on our book about the Sangathan while the team continues its rehearsals in the office. I worry about the absence of flesh on the bodies of so many saathis who are sitting around me. I recall how so many of them are perpetually running a mild fever that has never been diagnosed. I know that saathis will eat khichdi again for their next meal, maybe with some watery aaloo-tamatar ki sabzi. Richa's mother will probably cook roti, aloo-pyaz ki sabzi, and bhindi tonight, and there should also be some left over gulgula from this morning. What is the appropriate label for this momentary solidarity of stomachs in which I am participating? A joke? A ritual? A way for middle-class members and supporters of the Sangathan to deal with their own burdens?
Bitoli comes and sits near me as we eat that same khichdi; she talks about this and that, and then abruptly stops and asks me how old I am. I say forty-one. Richa Singh chimes in with her familiar laughter, "And guess what? I am older than her by more than a year!" Bitoli does not smile. She mentions her bony arms and shriveling skin, her disappearing teeth, her sunken eyes, and suddenly the loud, ringing voice of Bitoli that I feel thudding in my own chest rehearsal after rehearsal seems very soft and sad:
"I must be younger than both of you. Do you see a single white hair? Yet, I look older than everyone else here. You know why? Because poor become much older much sooner. Poverty means living a short and hard life."
Eight years ago, during the writing of Sangtin Yatra, we talked about the importance of every saathi of the Sangathan eating the same food when we were together so that we could begin to break the walls of untouchability that prevented some sawarn saathis from eating food prepared by the dalit saathis. The Sangathan succeeded in achieving this goal. But how does this Sangathan— or any Sangathan—prepare itself to honestly confront Bitoli's truth without risking its own survival?

On a warm summer night in Lucknow, my six-year-old body is wrapped around Baa's on her cot, and its loose coir weave is almedical most touching the ground of the enormous aangan of Kothhi Sah ji. With my right leg on her hip and my arm over her side, I snuggle close to Baa's beautiful, comforting body and ask her hesitatingly, "Baa, can I go to Nani's house with Maa and Bhaiyya?"
Baa stiffens. Her hand on my back seems hard and cold. She says sternly, "Bhaiyya is glued to your mother. She is still nursing that two-year-old doond. Let them go. You and Babli will stay here with me.6 Your Nani's house has no running water or electricity. You will be without a fan in this heat for a month. There isn't even a toilet in that broken, clay house. 'Itli garmi maa bilbilai jasho tyan. Agla waras joyun jashe!'"
Maa never got Baa's permission to take me to her parents' house where she grew up. It was the symbol of everything shameful. Filth. Poverty. Possible disease. While Bhaiyya went year after year with Maa to Mathura and thoroughly enjoyed each one of his trips to Nani's, my first—and last— visit to that house was in 1980. Babli and I had gone with Baa to spend our summer vacation with our grandfather, who was then living in a guest house in Mathura to work on his historical novel, Khanjan Nayan. The three of us stayed in Dadaji's room for a month, and Nani invited all of us for lunch to her house one day. Once in that prohibited place, my sister and I convinced Baa to let us stay with Nani for a night. That is probably the only time I got away with accomplishing something that was against Baa's wish without being punished later.
Baa loved me so much she could die for me. But the day after she died in 1985, I was crying with anger. Not only had she gone away, she had also stolen my relationship with my mother forever.

Angrezi ka imtihan. Aur toofani barish. I can no longer tell the difference between the two—the thunderstorm that is drenching Baba and me as he holds his huge black umbrella over our heads, and the deluge of tears that is falling down my face as I try to memorize the "words and meanings" that I will be tested on in my English class.
The Chowk branch of City Montessori School is close to home, and Baba walks me and my cousin there every morning, then picks us up at the end of the day. Baba frequently hangs out to chat with the chaprasis, ayahs, teachers, and other parents, and he often returns during recess with our tiffins. Baba has never gone to school, but he can sign his own name. He has dealt with white policemen, military officials, and lawyers in Agra during the colonial period. He is not afraid of anyone, not even of big literary people like Dadaji or of people who speak fluent English, like Phuaji. Baba believes that teachers and parents who don't know how to treat children with sensitivity are butchers, and I always trust Baba because he instinctively understands everything that matters, everything that makes me happy or sad, scared or adventurous.
I shake with fear as I tell Baba that I am going to fail the test. That I can't memorize a thing. That I am scared of my teacher, who will either scream at me or make fun of my mistakes before the whole class.
Baba feels helpless, "I wish I could help you, Bhaiyya. Hanuman-ji sab raksha karenge. . . . Jai Hanuman gyan gun saagar, jai Bajrangbali, todenge dushman ki nali." Baba recites his one-verse-long version of Hanuman Chalisa to protect me from the terror of the test and the wrath of the teacher.
Suddenly Baba guides me outside the school building, and we are standing in the petrol station adjoining the school. He stops a car in which two suited men are sitting and begs them to help this terrorized child. One of the men helps me inside the car and I sit in the middle of the two men (who smell like cigarettes) as they decipher my word-meaning assignment, which is soaking wet by this time. They ask me the meaning of each word, correct a pronunciation here and there, and then assure me that I have nothing to worry about because I know everything. Baba touches their feet with gratitude, "You both are very kind, Sahab. You have saved this child from big trouble today."
When I first started making sense of my world, I believed that Baba was Baa's brother. I gradually learned that he joined the family as a teenager the year my father was born. He began as a "dispatch boy" for a small newspaper called Chakallas that Dadaji published for a few years in Lucknow, and he gradually became a member of the family. It was not until 1993 that Baba shared with me that he was a child laborer who had fled his home because his mother was forced to remarry. It was not until Baba died that I heard some people in my extended family refer to him as a "servant." And it was only after he had gone that I fully realized the terms on which he had been allowed to live and die for my family.
Baa could steal my mother, but she could not steal my Baba. My relationships with Maa and Baba were intimacies of poverty in a family that had enormous cultural wealth. As I struggle to define all that I lost with Maa and all that I found with Baba, I feel as if Baba and Maa were always competing for my sister's and my love and Baba always won on that front because Baa let him win. Maa won our brother, Pracheta.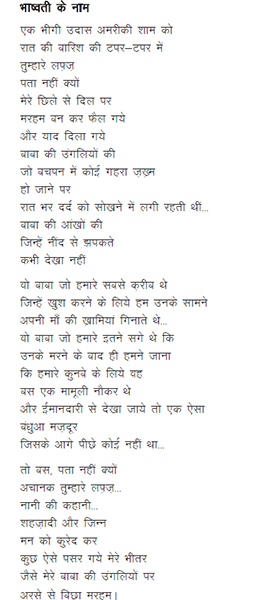 FOR BHASHWATI
On a sad, wet Amreeki evening
in the pitter-patter of the night rain
On a whim of their own
your words
spread on my bruised heart, like maraham
reminding me of Baba's fingers
that worked tirelessly all night long to absorb my pain
from all those deep childhood wounds
of Baba's eyes
which I never saw heavy with sleep
of Baba who was dearest to us
for whose amusement
we would recount the faults and failings of our mother
of Baba who was so closely kindred to us
that only after he was gone did we figure out
that he was just an ordinary servant for our kunba
to be honest, a bonded laborer
who had no one else before or after him.
So, I don't know why suddenly
your words
that story Nani told
the princess and the jinn
penetrated my heart
and spread in ways
that reminded me of
the maraham ever present
on my Baba's fingers.7
FOR DAR ES SALAAM
With pangs of pain and smiles
I remember
The city of Dar es salaam
Whose breezes, sounds, smells, and wounds
Surround my being
Like the breath of those evenings in Awadh.
But Dear Dar es Salaam
When your memory hits my heart
Why do I feel this excruciating pain?
Is it because my blood and color seem
Closer to those who have sucked your blood?
The splinters of whose conscience have scattered across the globe?
Or perhaps to those
Who could not be yours despite their intense desire
Because they never got an opportunity
To show you their love, or
To write their destinies
In their own words.8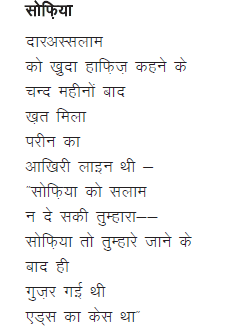 A few months after saying good-bye to Dar es Salaam
Parin's letter came
Her last line was—"I could not give your salaam to Sofia; Sofia passed away soon after you left
It was a case of AIDS."
How could Sofia die?
when she was not even seventeen yet? when she trekked everyday
baby in her belly
from Magomeni to Kisutu
from the black part of the city
to the brown part of the city.
The mischievous Sofia
who laughed loudly when I made mistakes in Kiswahili
who told me of the secret bonds between brown and black skins which no one else could
who thought it was the world's most sophisticated joke
that I called my research, "work"
the same Sofia who said
that she did not need any father to raise her child (not her own, not her child's).
How could Sofia die?
despite those fearless dreams, those ringing laughs, those continuously vibrating feet
she was not even seventeen yet.

Kailasha of Khanpur village does not know her age. But many saathis respectfully call her Kailasha Amma, in the same way that they call Bitoli, Bitoli Amma. Like Bitoli, Kailasha also has encountered life in such a way that the distance between childhood and old age seems to have shrunk into a few moments. No matter which meeting, rally, or dharna, Kailasha Amma is always there. But she is often quiet. Even when she is asked a question, she remains quiet.
When the saathis first won the battle of bringing irrigation water in the Sharada Nahar in 2007, the Sangathan organized a movement-wide conference in Khanpur for two days. The preparations for this conference were proceeding in earnest. Donations were coming in from village after village. A few volunteers had just sat down to calculate how much cash and grain had been contributed when Kailasha Amma came up and, undoing a knot at the end of her sari's pallu, she pulled out a fifty-rupee note and extended it—"Here is my contribution!" Upon delivering the note, Kailasha returned quietly to the spot where she had been sitting.
Everyone was stunned. Kailasha, who has no flesh on her bones, has to struggle hard to manage even two rotis for herself at the end of the day. Sometimes the saathis hesitate to include her in the movement's work because her body tires easily. The conference became so important for that same Kailasha Amma that she gave away her whole day's earnings to this Sangathan. Kailasha's silent support spoke louder than the support of the most vocal saathis. Her refusal to name or to draw attention to her act translated her gesture into a sacrifice that inspired the saathis. It produced an affect through which the political meanings of a hungry body became inseparable from the relationships that were emerging in and through the movement. This affect had the power to convert the rage generated by hunger into a profound hope of possibilities.
I have worked on various versions of the above text in Hindi and English for three years now, but it was only in October 2009 that I first met Kailasha Amma at a meeting attended by forty or so saathis. The story about Kailasha's role in the Sangathan is based on an episode that Richa Singh narrated to me in 2007, which I subsequently wrote up in my capacity as the Sangathan's "scribe." Kailasha's story—along with many others about the making of the Sangathan— has gone through continuous revision as it has been reread by, shared with, and translated for multiple meetings and audiences. Today, Kailasha and her two motherless granddaughters had also joined the other saathis so that they could listen to and give feedback on three draft chapters of what is now called Ek Aur Neemsar, a chronicle of SKMS's evolution since 2004 that I have been writing in Hindi with Richa Singh, with occasional participation from Surbala, Reena, and those who have been contributing to SKMS's newspaper, Hamara Safar.
Kailasha Amma silently nodded her approval when I paused after reading the Hindi version of the above passage. Other saathis clapped for Kailasha and said they wanted the second chapter of Ek Aur Neemsaar to open with her story. There was a brief discussion of how sacrifices such as hers constitute important stories because they allow for collective reflection, while giving courage and direction to the Sangathan's struggles.
However, I felt a restlessness that I had not encountered until that moment. I felt challenged by Kailasha's bodily presence in a way that I could not define. I wondered whether Richa Singh and I had violated Kailasha by deploying her hunger for the purposes of the Sangathan. Why was it that, even with all of our sensitivity and self-reflexivity, I had been unable to recognize the possibility of this coauthored text to commit violence until I read it before Kailasha and her granddaughters?
But there is no easy escape from this thorny discomfort. Kailasha expects this story in the book just as she heard it. Is it because she does not know where, how, and among whom her story will travel? Is it because she doesn't really connect with the language and form in which her story is narrated? Is it because she thinks it will give her recognition in the Sangathan?
I am afraid that trying to pin down the answers to these questions may enact a greater violence than the possibility of violence that these questions seek to struggle with.

Dear Piya,
It's early morning of March 11th. I am sitting in a corner in Schiphol airport in Amsterdam. I have a couple of hours in hand before boarding my flight for Mumbai (a two-week-long trip to India to say hello to Babuji and Maa and to work on a film that Tarun and I have started to make with the saathis of SKMS). I feel a need to speak with you, even if it's in quickly snatched fragments here and there.
Your ways of telling and listening, absorbing and forgiving, are deepening our connection in ways that I find transformative for my soul. . . . For the last month and a half, even in the middle of my schizophrenic lives, I have been enveloped by the fierce power, beauty, and generosity of your letter. Perhaps the most compelling challenge you have articulated for us relates to the sparks of connection, magic, and possibility that cannot always be found through the written word, at least not in our immediate institutional contexts where "creative" gets morphed into the "productive," even when that creativity seeks to resist the idea of productivity as it has come to be celebrated by our institutions.
At the same time, the promise of this continued dialogue, this patching and quilting between us—and between fragments of our multiple worlds that haunt us and make us—is precisely what makes me hopeful about narration through words—written, imagined, and felt; about sharing pieces in which chaos and dissonance, silence and mourning do not have to be analytically separated, translated, or made visible; about the process of finding faith, meaning, and languages together so that we can make ourselves radically vulnerable as we create an honest dialectic between our "internal" struggles—of making sense of our souls, our intimate silences, betrayals, nightmares (the uttering of which has been permanently postponed at times)—and our "external" struggles that involve our associations with other souls, their silences, hopes, fears, and sufferings. In linking the khichdi in Sitapur with the mar-bhat and lal cha and biskit in the cha bagan, you open up such a promising space of entanglements where our own bodies/spirits become inseparable from the bodies we want to commune with in our writing, organizing, healing, being. But how do we come to those entanglements if the spaces and languages available to us are acutely suspicious, even resentful, of that possibility?
Your discussion about the excesses we carry in our bodies reminded me of that seemingly endless moment when I stood at a bus stop in Nayi Tehri and watched a woman trying to nurse her inconsolable, hungry infant. I could not know how hungry the woman was, but I could see that she did not even try to offer her dry breast to the child in her arms. She continued to thrust a nippled water bottle into the screaming baby's mouth. I stood there with my friend, Khajan, streams of milk flowing under my own shirt, for I had an eighteen-month-old on another continent waiting for me, and my body was responding to this child's call to quench her hunger. However, as a complete stranger accompanied by a man from the area, I couldn't even communicate to the woman the solidarity that I felt in my body. If the people on the cha bagan can offer their only protein to you, what stopped me from offering to that baby the protein that I had in excess?
That moment from Nayi Tehri has never left me. My need to process it once led to a fragmented poem in Hindi, interspersed with its translation into English, as I struggled to write a (non)conclusion to an academic conference paper that I was asked to present in Singapore; but a couple of harsh responses I received from two self-described "feminists" at that conference made me think that I should not try to communicate with academics through poems again. The memories of that child's screams, of the eyes of her mother, of my drenched shirt and a subsequent conversation with Khajan, and of the "feminists" who told me how my poem was emotionally manipulative, still howl in my face and make me ask again and again whether "we" will ever be able to confront the ways in which our bodies enable, complicate, and foreclose our political and theoretical commitments; and the manner in which this confrontation can never yield answers, only questions and hauntings.
Saathis in Sitapur often remark on the well-intentioned members of the middle classes who visit their villages to support them and who condemn caste untouchability but who cannot operate without their own segregated bottles of purified water. Why is this practice not deemed untouchability, they ask. I feel that sangtins have a sophisticated gauge by which they determine whether or not someone can stand with them, to what extent, and in what ways; and the ability to eat and drink the same food and water that they are eating and drinking is a very important component of this gauge. I try to do well on the test but almost always lose my voice due to the air and water pollution, and sometimes get violently ill with gastroenteritis, at which point I am generously excused by my comrades for my body's refusal to comply with their standards. All of this keeps me perpetually journeying through the question of what it means to enact solidarity when, like a virus, the germs of my physical, material, and socioeconomic location have made a pukka house inside my body and made it unable to accept the same conditions of living embraced by those I want to stand, dream, and learn with? Is the body betraying the mind, or is it telling a harsh truth that the mind is refusing to accept? Maybe some of each? But how do we theorize this contradiction, and work with it in our beings and in the spaces available to us in, despite, and beyond our institutions?

Trust and Translation
In a coffee shop in Taksim, Ayşe Gül Altınay was holding the Turkish script of The Triggerman, written by Ebru Nihan Celkan, and we had fifteen minutes in hand before we had to enter the auditorium. In those fifteen minutes, Ayşe tried to explain to me in English the key pieces of the play as well as the nuances of each scene. After the play was over, Ebru asked me if I could see India and Indians in this play, which was about the making and nourishing of terrorism by the Turkish state.
Ayşe's trust reminded me of that bus ride from Aurangabad in 1989 when Shruti Tambe read to me Gauri Deshpande's Chandrike Ga Sarike Ga. Shruti knew that I was only a beginner in Marathi, but every time she lifted her eyes from the book to meet mine, I saw a trust that moved and overwhelmed. "Watch me speak," she said, "listen to me, and you will understand. You can feel the language." I remember us discussing the book for days afterward. If I close my eyes, I can still relive the curiosities and yearnings that Gauri Deshpande's words brought to life—even though I felt them only through Shruti's voice and through Shruti's trust.
After an energizing morning with twenty-two feminist activists who gathered in the office of Insan Hakları Ortak Platformu (Human Rights Joint Platform) in Ankara, Aksu Bora, Tennur Baş, and I catch a cab to Ankara University. Aksu asks when Ek Aur Neemsaar is coming out in English. I tell Aksu what I feel confident about after months of agonizing over—and supposedly resolving—for myself: "I do not want to translate Ek Aur Neemsaar into English, at least not in the form that Playing with Fire took. There are all these unintended and unforeseen consequences of circulating stories in a language such as English, which may not work for the alliance and the Sangathan at this time."
Aksu listens respectfully but disagrees that not translating is the way out. Translation into English, she says, is the only way readers in Turkey will be able to enter into critical dialogues about it. In the absence of Sangtin Yatra's translation as Playing with Fire, the kind of conversation we had this morning would never happen. "I appreciate your argument," says Aksu, "but I think you cannot not translate." Tennur, who is intently listening to this conversation, agrees.
Less than a week later, I am in Diyarbakir. After an intense discussion session with more than sixty women of KAMER who read Ateşle Oynamak, the Turkish translation of Playing with Fire, Ayşe Gül and Nebahat Akkoç are excited about the possibility of having the conversation between KAMER and SKMS in person. Can one or two dalit women from the Sangtin Writers collective come to Turkey for a dialogue with Kurdish women in KAMER? I hesitate, having a sense of the kind of concerns I might hear at this proposal from members of SKMS. I also recall those tough moments in Minneapolis, Richmond, and New Delhi when well-intentioned desires of forging dialogues and exploring resonances between sangtins and other collectives working in very different worlds, but grappling with similar questions of marginality and justice, only led to pain and disappointments. Heart-wrenching events that taught me why and how the idea of bringing together struggles in the same room in order to learn from them is far easier than the imaginative, analytical, political, and creative labors of figuring out what it might take to make those struggles speak with one another. Not to mention the emotional labor of how to work through difficult moments in which there might be neither speech nor translation. Only the possibility of coming to terms with impossibilities.
But how can I communicate those concerns without oversimplifying them, or without violating my responsibility as a coauthor, as a member of an alliance, as a translator, and as a critic? How do I enact accountability without ignoring the truth that trust and faith in translation are the chief, perhaps the only, modes of communication available to me as I interact with members of SKMS and with those friends in Turkey and elsewhere who have chosen to listen to the sangtins' journey with open minds and generous hearts?

Every act of sharing is an act of translation, an act that contains the possibility of becoming radically vulnerable. It is impossible to "know" where the sharing might lead us without having taken the risk of exposing that intimate fragment that can only be translated inadequately. The journeys of embracing these risks are journeys of faith. Sometimes they give us courage to tell more. Sometimes, they teach us to withdraw. And at yet others, there is only the inevitability of sleeplessness, hauntings, tears.
In Cape Town, Elaine Salo, Sophie Oldfield, Koni Benson, and I spend three days together, sharing pieces of stories that make us, and haunt us. Stories of those we have chosen to walk with. Of journeys that are necessarily interrupted and fragmented. Our conversations push me to search for some of those bits that remain unwritten in the pages of these translated fragments. They inspire me to bring a tentative closure to this chapter by making the fragments, and the translations, messier and by becoming more radically vulnerable.
Ek Aur Neemsaar (Another Neemsaar) is the title of the book, published in 2012, that documents Sangtin's journey from the writing of Sangtin Yatra to the making of SKMS. Namisharanya, the holy town that attracts many Hindu pilgrims to Sitapur District, has a nickname—Neemsaar, which literally means the essence of the Neem leaf—an essence that is bitter but cures illnesses. Ek Aur Neemsaar also carries bitter truths that lie at the heart of sangtins' struggles.
Muddying the Waters emerged from a decision to not translate Ek Aur Neemsaar into English. Ek Aur Neemsaar taught me how telling stories across borders can trigger desires and dreams that might betray the "original" dream and commitment of Sangtin Yatra. I sensed how translated and published words can turn into both wounds and weapons. I felt paralyzed by the mobility of my own body and by my own ability to play with words. I could "know" and "feel" the drama of the political theater that I participated in with members of SKMS, but I could no longer claim to responsibly represent the everyday drama that was unfolding in the ever-expanding movement in the villages of Sitapur.
The journeys that unfold on the pages of this book, then, are as much about what can be said or known in love as they are about the uncertainties that burden love, and that make solidarity perpetually fragile and uneven. They are as much about the political economy of truth making as they are about impure truths and polluted genres. They are as much about contaminated knowledges as they are about ruptured intimacies that enable and stifle us.

My first sleepless night in Cape Town. In the magnificent house where I am residing as a visiting professor from the United States. A stack of newspapers by the kitchen fireplace brings forth a long erased memory. Of burning hot summer afternoons in Lucknow when I put leyi to seal three sides of the envelopes that my mother made out of beautiful glossy pages of Soviet Land, the complimentary magazine that came freely to us as a perk associated with Dadaji's membership in the Indo-Soviet Cultural Society. I can almost feel each fresh stream of sweat that trickled down my legs even as the green Usha table fan sat on the floor blowing hot air at Maa and me. Was I five then?
Maa tied a string around each stack of fifty envelopes and then walked to Ban Wali Gali to sell them secretly to a shop owned by Guptaji. Guptaji liked the envelopes because of the special "imported" paper and their impressive size. He did not disclose to anyone that Nagarji's chhoti bahu sold those envelopes to him because his son's activism as a student had rendered him jobless with three children, a foreign language certificate in Russian, and an inprogress doctorate in organic chemistry.
How much money did those envelopes fetch? How did I manage to not remember those afternoons for almost four decades?
Does my forgetting of this truth betray my lack of intimacy with my own mother? Can I adequately mourn the loss that comes from the knowledge that my mother may not share my pain for what we could not be together?
Local and Global
Rumor has it that Kothhi Sah ji, the grand eighteenth-century house where I grew up in the old city of Lucknow—and where the warrior Begum Hazrat Mahal took shelter at the time of the Indian revolt against the British—was constructed from building materials stolen from the Asaf-ud-daula Imambara. My grandfather, who was to become an eminent Hindi novelist by the time of my birth in the late 1960s, started renting this kothhi located in the historic neighborhood of Chowk for 100 rupees in 1958. It was in this kothhi; in the narrow, bustling lanes surrounding the kothhi; and in the manner in which the rest of the world related to those lanes and the kothhi that my first and most intensely felt encounters with geographies of difference, inequality, and social injustices happened.
My childhood memories are filled with times spent with cousins, neighbors, and domestic workers and their children in the big and small courtyards; in the winding, narrow stairwells; and in the secret little doorways and tunnels that linked many of the old houses and tightly compressed lanes of Chowk. Chowk, by the way, was considered as the only real tourist attraction of Lucknow, because it was here that the past glory of Shi'i Nawabs nurtured not only the Lakhnavi Urdu and culture of modesty, finesse, and hospitality, but also the craftsmanship of the local Sunni and Hindu artisans, and the practices of Khattry business families who hired and exploited them.
Inside the spaces of the kothhi—at once imposing, stifling, and nurturing—I came to admire my grandfather's genius and his popularity among people of all classes. And in the same spaces, I watched my mother being shunned by the family because of her parents' poverty. I learned how child labor became transformed into a lifetime of bonded labor through the stories of Baba, who raised me and my sister. I was taught what my socio-spatial and behavioral limits were as the oldest girl in the joint family.9 And I saw my young and dynamic father battling an aggressive muscular dystrophy that gradually imprisoned his body but could never stifle his soaring creativity. Immediately outside the kothhi, I met bhangi women and men who inhabited the other side of our residential lane, and who came with their baskets every day to collect the filth from our homes and non-flush latrines.10 In the covered alley beside the kothhi, I knew girls of my own age who cooked, ate, and slept with their families with only an eighteenth-century arch over their heads. These were girls who never got a chance to go to school or to use a "real" toilet; whose growing, barely clothed bodies filled their mothers' hearts with fears; and who were married off and had babies by the time I reached college.
When I was seven, my mother—who had by then become an assistant teacher of Hindi in a primary school—rebelled in a startling way. In a family that prided itself in serving Hindi literature and theater, and where "English schools" were considered both elitist and beyond financial reach, she demanded that her daughters be sent to an Angrezi school and announced that she would spend her earnings to help with the fees. Her victory resulted in my admission in 1976 (followed by my sister's in 1979) to La Martiniere, a school founded by a French general that is known as much for its high-quality education as for the historical role its boys played in fighting against Indians and helping to restore British power during the Revolt of 1857. In retrospect, the journey to La Martiniere—barely two miles away from Kothhi Sah ji—was at once a traumatic and an enabling journey that changed the course of my future life.
From Chowk to La Martiniere
When I arrived in La Martiniere, I became silent. The people, sounds, and sensations that throbbed in the veins of Chowk were far removed from this world. I was surrounded by Anglo-Indian teachers, administrators, and boarders; and by daughters of bureaucrats, professionals, military officers, local legislators, and business families, who were raised in the modern "residential colonies" of Lucknow in nuclear families, who often spoke English comfortably, and who chatted about travels, films, novels, and parties that I had never heard of. To many of them, Chowk was a "backward Muslim interior" where everyone wore chikan fabrics, chewed beetle leaves, flew kites, and visited courtesans. I tried hard not to feel embarrassed of belonging to Chowk or of coming from a joint family that did not own a car or house, and the most sophisticated members of which could speak only broken English. I searched for words and points of connection as I traversed back and forth on cycle rickshaws between Chowk and La Martiniere. For the next nine years, I struggled to muster the tools to translate the pieces from one world of my childhood and early adolescence to another.
My later years in La Martiniere were not as difficult as the initial ones, however— partly because my sister and I had co-devised several survival strategies; partly because I began to find solace in Hindi creative writing; and partly because I had earned a reputation as a so-called pundit of things non-English. It was toward the end of the La Martiniere days that I also discovered Ms. McClure. Raised in Burma, Ms. McClure disapproved of two things: her husband's cigarettes and girls who "stitched like mochis" (shoe-makers) in her sewing class.11 But she loved stories by Rudyard Kipling and geography textbooks by Goh Cheng Leong. Even with her weakness for Monsoon-Asia-type regional geography, Ms. McClure effectively communicated to us that everything in our world happens in space and place, and one can never escape geography. Although Ms. McClure never said it in so many words, somehow her adoration of geography convinced me that it was possible for geographers to move between many worlds without compromising their passion for any of them. I think it was while listening to one of Ms. McClure's lectures in 1983 that I decided to become a geographer. Three years later, this decision was to become a second battle point in my family.
The Aborted Journey to Allahabad
The desire for geography led me to pursue my bachelor's degree at Avadh College, where I studied anthropology, geography, and English literature, but at the master's level geography was nonexistent in Lucknow. No one in my entire kunba had ever heard of sending a daughter away to study something as inconspicuous as geography! A hundred relatives interrogated my father: "Where will you find the means to put her in a hostel?" If I had been selected for a almedical or engineering program, it would have been worthwhile to beg or borrow, but that was not the case: "What wonders will she accomplish with a master's in geography? Work for the Geological Survey of India?" And then, there was the larger question lurking behind these minor anxieties: "What if she does something that disgraces the family?"
In some ways, perhaps, my father shared bits of all of these fears but deep inside he also believed in his children. He decided that since the government of India had decided to give me a merit scholarship of 150 rupees per month to pursue higher studies, I should be allowed to go Allahabad, four hours by train from Lucknow, to get my master's degree in geography.
But a year of intense student activism led to the academic year 1986–87 being declared a "zero session" at the University of Allahabad. As I devoured Bangla and Russian classics (in translation) and waited in vain for classes to start, my father convinced me that this was a good time to develop my creative faculties. I worked for educational television, received lessons in writing and directing children's plays, transcribed life-history interviews with theater activists, and reviewed Kathak dance performances for the local dailies. Hindi literary writing continued to pull me as I began to publish short stories and poems in magazines such as Dharmyug and Sarika. I also became the unofficial personal assistant of my grandfather, who was then fighting glaucoma and diabetes. I took dictation as he narrated his last novel, answered his mail, accompanied him to seminars in Lucknow and Delhi, and escorted him to Bombay when the well-known filmmaker Shyam Benegal invited him to discuss one of his novels for a film project.
The month-long trip to Bombay with my grandfather impacted me deeply. It exposed me to a vibrant political and artistic atmosphere and to the excitement of being in a big city, and it triggered in me a desire to step outside of Uttar Pradesh. I decided against going to Allahabad when studies resumed there and applied instead to the universities of Bombay and Poona. With student political activity delaying the start of the academic year in Bombay this time, I found myself starting a new life in the Savitribai Phule Hostel in Pune in August 1987.
From Pune to Minneapolis
University of Poona was a subsidized state university and boasted one of India's best geography departments. Of the large number of students who came to pursue geography at Poona, almost eighty percent were Marathi-speaking men from middleto- lower-class farming families from the adjoining districts. Of the small minority who were educated in English, four students in 1987–89 were from the Pune metropolitan region, and two (including me) were from the capital cities of Manipur and Uttar Pradesh. The composition of our regional, class, and educational backgrounds made the linguistic medium of instruction an interesting challenge for instructors and students alike. Nevertheless, the department succeeded in giving its students a two-year immersion in all key subfields: geomorphology, climatology, human geography, economic geography, cartography, and research methods. Although everything we covered in these areas was dominated by the work of British, U.S., and German geographers, the department did a good job of introducing us to geographers working in Maharashtra— Dikshit, Diddee, Sawant, and Arunachalam.
Ironically, however, all this geography remained untouched by larger political issues that had captured the imagination of students on campus: the furor over Rushdie's Satanic Verses and the murder of sati Roop Kanwar in Rajasthan. Terms such as Marxism, feminism, political economy, imperialism, and even colonialism never became part of our classroom discussions. Our training remained faithfully entrenched within positivist, Malthusian, and neoclassical paradigms no matter what specialty we chose during our last semester in the program. For me, all these sociopolitical influences remained confined to the extracurricular realm, and I did not imagine that they could become part of geography—until I came to the University of Minnesota.
Minnesota was the most unbelievable accident of my life. Three factors facilitated this accident: First, Dr. Jayamala Diddee, my mentor, urged me to contact Joseph Schwartzberg because he had authored An Historical Atlas of South Asia. Second, several of my friends in the Savitribai Phule hostel decided to take the TOEFL and GRE so they could apply to graduate programs in the United States, and I decided to embrace the challenge of these tests, as well. Third, I did not look for Minnesota on the world map until after I got a MacArthur Fellowship to study geography there.
From Minneapolis to Dar es Salaam
The trip from Delhi to Minneapolis on 31 August 1989 was the most difficult trip I have ever taken anywhere. The joint household had split, my family had been in the grip of some serious illnesses and economic hardships, and my presence was needed in Lucknow. Although I received nothing but complete support for my decision to go to the United States, the circumstances in which I left made me feel guilty and fearful.
But exciting things were in store for me. The MacArthur Program had just begun to generate tremendous opportunities as a community of international and U.S. students came together with a dynamic group of left-leaning faculty at Minnesota to create new interdisciplinary agendas. I was particularly drawn to the conversations happening among the African Studies scholars in the MacArthur Program, as well as the energetic discussions on oral histories, personal narratives, and popular memory that had animated the work of a large group of feminist scholars at Minnesota. At the same time, postcolonial approaches had started stirring exciting critical conversations about feminisms and the projects of ethnography.
The energy created by the MacArthur Program was nourished by the Geography Department, which encouraged me to grow theoretically and methodologically in the directions that were drawing me. I decided to do my doctoral research among the South Asian communities in Tanzania, under the support and advice of six inspiring mentors. Philip Porter and Susan Geiger, my co-advisors, taught me the importance of telling stories in academia—without losing a sense of responsibility and commitment to either the people I was studying or the issues I wished to confront and struggle for. Eric Sheppard and Helga Leitner exposed me to the most exciting ideas in social and economic geography and cultivated the spaces where their students could come together to expand their own—as well as geography's— horizons. Ron Aminzade and Prabhakara Jha made me attentive to temporality and postcoloniality, and pushed me to grapple with the meanings and possibilities of interdisciplinarity.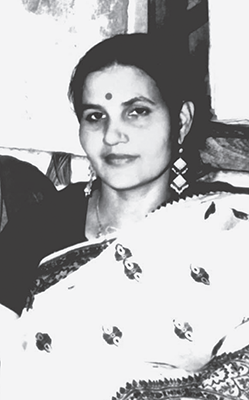 Photo 1. Maa. Lucknow, 1981.
(Courtesy: Sharad Nagar)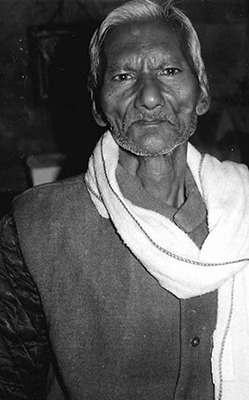 Photo 2. Baba. Lucknow, 1990.
(Courtesy: Sharad Nagar)
After having been immersed in race politics in the United States and developing a strong identity as a woman of color, confronting the racialized realities of East Africa in a physical way was jarring. As a woman from India who had arrived in Dar es Salaam (Dar) via the United States and who didn't easily fit the stereotypical category of a local muhindi, I was sometimes treated as an honorary mzungu. But soon I found myself negotiating and actively exploring other layers of politics as well—class, caste, religion, language, neighborhoods, as well as those of sexual practices and privileges—in a Tanzania that was shifting from being Nyerere's dream to a thoroughly liberalized multiparty democracy. The worlds that I had moved between—from Chowk and La Martiniere to Poona and Minneapolis, as well as my ancestral links to the Gujarati language— gave me the tools and passion to analyze the complexities of gender, race, class, and community in the everyday spaces and identities of South Asian immigrants in Dar. And all this happened right as the Babri Masjid was being razed in Ayodhya next to my hometown, and the effects of the Bhartiya Janata Party's rise in India could be felt as strongly among the upper-caste Hindus in Dar as Ayatollah Khomeini's preachings could be heard in the Khoja Shia Ithna Asheri Jamaat. All these interwoven processes became the subject matter of my dissertation, as well as a string of nine articles and book chapters that followed between 1995 and 2000.
From Geography to Women's Studies
In 1995, I began my first tenure-track job in the Department of Geography at the University of Colorado in Boulder. To put it in Minnesotan English, Boulder was "different." And I do not mean simply its physical geography. Both interdisciplinarity and engagement with transnational politics were difficult to carry out at Colorado at that time, especially in the face of overt hostility that was frequently expressed against faculty who happened to have a combination of specific traits (relatively young, radical women of color who mentioned U.S. imperialism in their undergraduate lectures, for example). However, I did find wonderful colleagues to learn from and grow with. Don Mitchell, Lynn Staeheli, Tony Bebbington, and Tom Perreault in geography and Michiko Hase, Kamala Kempadoo, and Alison Jaggar in women's studies, in particular, gave sustenance to mind and soul. David Barsamian of Alternative Radio became a source of political nourishment, while Amy Goodman did some of that work through the radio waves every morning.
But the massive shift in institutional culture and context that Boulder brought in my life sparked questions that went beyond Boulder. As I moved from being an adopted "daughter" of Dar to becoming an assistant professor at Colorado, I found myself caught between intellectual, political, and personal commitments I had made in three continents. In strategic terms, I learned to respond to the administration's message of "publish or perish." But I was troubled by the realization that the only things that counted were those that could be discussed or consumed within Western academic circles. There was hardly any institutional space to act on my sense of accountability to the people and issues I had studied in Dar. Any efforts to make my work "travel" beyond the Anglophone academy in ways that could become meaningful to people that mattered in Dar or Delhi were deemed extracurricular—in the same way that politics surrounding Roop Kanwar and Rushdie were declared extracurricular at Poona.
My work in Tanzania also made me aware of other difficulties pertaining to the question of relevance in scholarly knowledge production. In challenging the dominant image of all Tanzanian Asians as exploitative male traders, I highlighted the narratives of people from varied caste, class, religious, sectarian, and linguistic locations. In highlighting the relationality of identity, space, and power, I focused as much on the lives of cabdrivers, sex workers, and "racially mixed" people (who were both accepted and shunned by the "pure" Asians) as on the prosperous merchants, professionals, and community leaders. However, the sociopolitical power wielded by affluent Asians in Tanzania—combined with my position as a non-Tanzanian—meant that I could not share the critiques of communal organizations and leaders articulated by Asians who lived on the margins, without risking the latter's social lives or livelihoods. While my research could have proved helpful for those interested in fostering progressive interracial alliances in Tanzania, this fear of backlash by community leaders prevented me from publishing a book on my research. A critical ethnographic focus on the practices of the elite, however exciting theoretically or empirically, seriously limited the spaces available to me for producing knowledges that could contribute to advancing progressive politics in Tanzania "on the ground."
Struggling with these questions made it necessary for me to ask why I wanted to be in the U.S. academy, and what kind of academic work I wanted to do. Conversations with colleagues at Jawaharlal Nehru University, as well as a project with David Faust that focused on discursive and material divides produced by English-medium education in postcolonial India added new layers of complexity to this struggle. As I tried to work through these layers, I became frustrated with limitations posed by narrow conceptualizations of reflexivity in critical scholarship that rarely addressed how to generate conversations (and produce knowledges) that could move across the borders of the academy, classes, and continents. Incidentally, Susan Geiger, who was finishing her book TANU Women was also becoming disillusioned with popular approaches to reflexivity. Together, our mounting dissatisfaction created fertile ground to sow the seeds of a collaborative project, titled "Reflexivity, Positionality and Identity in Feminist Fieldwork: Beyond the Impasse."
And somewhere in the middle of all these searches, I decided to shift my institutional home to women's studies—a field where I felt I could blend commitments, genres, and theories in a more undisciplined way. Through a mix of exciting developments, I found myself returning to Minnesota in the fall of 1997 to make a new beginning in Women's Studies.
From Mujhe Jawab Do to Playing with Fire
Susan Geiger's tragic death in 2001 brought our collaboration to an untimely end. But the leukemia that destroyed Susan's body could not kill the quest that our conversations had inspired: a quest to create new forms of accountability in feminist knowledge production not only through a self-reflexivity about how researchers are always inserted in politics of identities and categories, but also through a serious interrogation of how our institutional and geopolitical positions contribute to rendering our work relevant—or irrelevant—across the boundaries of the northern academy, wherever that north might be geographically located. For me, this quest—combined with long-term prior associations with feminist activists in India—translated into a process of imagining new collaborations with nongovernmental organization (NGO) workers and activists in Uttar Pradesh.
The process began with Mujhe Jawab Do, a study of a rural women's street theater campaign against domestic violence in Chitrakoot District. This work shared the ongoing commitment of postcolonial feminists to destabilize ethnographic practices that perpetuate the idea that it is only "women" who live in the third world—not the institutions or subjects of feminism. But as I faced the reality of how NGOs and donordriven visions of empowerment were deradicalizing grassroots feminisms, it became clear to me that any effective intervention in transnational politics of knowledge production would have to be accompanied by a reshaping of dominant intellectual practices. It would require—among other things—collaborative agendas created with grassroots activists, to concretely grapple with the forms and languages in which new knowledges ought to be produced, and the ways in which those knowledges can be shared, critiqued, used, and revised across multiple sociopolitical, institutional, and geographical borders. These concerns found expression in a journey with eight NGO activists in Sitapur District, which resulted first in the creation of Sangtin Yatra, and then its English version, Playing with Fire.
Both Sangtin Yatra and Playing with Fire advanced a collective struggle against depoliticization propagated by donor-driven programs that seek to "empower" rural women in the global south. These collective struggles gave birth to SKMS, a movement of peasants and laborers, which quickly spread across Mishrikh and Pisawan blocks of Sitapur District. As my companions in SKMS and I continue to travel together, we remain convinced that despite the risks that accompany alliance work, it is only by embracing more collaborative journeys across borders that we can create new intellectual and political possibilities to grow and flourish on our own terms, in our own spaces, and in our own languages.

Theater of Hopes
Richa Nagar and Tarun Kumar
Sunshine spread like warm gold into our laps on that cold January morning in the Kunwarapur village. About twenty members of SKMS had gathered outside the Sangathan's dairy to explore their interest in using rangmanch as a way to advance the movement's struggle. There was an excitement and sense of anticipation in the air as the faces of the more vocal members of the Sangathan such as Pita and Shammu mingled with the less-known faces of Sunita, Tama, and Saraswati Amma. The movement's fight against the corruption and everyday humiliations associated with the government of India's recently launched National Rural Employment Guarantee Act (NREGA) had turned a collective of a handful of people into a member-driven movement of more than three thousand people in just a matter of a few months. However, this "spectacular success" had also created serious challenges for the Sangathan: How could the depth and nuances of the political analysis that was emerging in and giving momentum to the movement be shaped by the struggles and circumstances of the membership in ways that the Sangathan's aims and agendas were not imagined and led primarily by just twenty or thirty people? Could theater become a vehicle for helping bodies and minds to remember, author, and own a collective struggle in ways that an ever-widening movement could also become an ever-deepening movement in terms of its political methodology, praxis, and poetics of engagement?
It was this search, perhaps, that made today's coming together so different from the ways in which the members had explored issues in the past. Instead of speaking through arguments, stories, and debate, people spoke in languages they had not shared before. Tama may not have been able to see the dholak he was playing, but his fingers danced crazily on it as the notes of Pita's voice rose higher and higher to match Tama's beats. Sunita left her feverish daughter with a neighbor so she could take the dholak from Tama to announce a collective rebellion against the block development officer (BDO). Reena let go of the worry that her husband would throw a tantrum if she did not behave like a proper bahu in her village; the papier-mâché glove puppet in the bright red sari became, with Reena's skillful maneuvers, a wild woman who laughed, jumped, and pulled the mustache of the Pradhan to protest his corrupt ways. And Saraswati Amma, who had no patience with singing and dancing, designated Shammu as the BDO so she could grab his collar and give him a piece of her mind for all his lies and evildoings against the saathis of the Sangathan.
Eighteen months later, on a sweltering July afternoon in Minneapolis, ten Hindiand Urdu-speaking people gathered in Divya's living room to read stories by Ismat Chughtai and Saadat Hasan Manto. Except for Tarun, our director from Mumbai, everyone else was a resident of Minnesota and earned a living as an engineer, professor, banker, scientist, or librarian. This was a group of confident people who believed that they had well-articulated perspectives on social problems affecting the subcontinent. We comfortably discussed the stories, stating what we found impressive or unimpressive about them, and tried to imagine what it would be like to dramatize one of them through our community theater workshop.
When it came to talking with our bodies, however, most of us turned into wood. Yasmin couldn't bring herself to swear nor scratch her calves like the sweeper in Chughtai's story, Do Haath, was supposed to. Richa became self-conscious when Tarun asked her to enact the labor pains of one of the daughters-in-law in the story. And as the authoritarian mother-in-law trying to uphold the dominant values of sexual morality, Meera struggled to enunciate things in a language she had spoken all her life. Yet, these challenges generated an excitement in everyone, from the newly married Subha and Navneet, who loved to play the romantic couple on the stage, to the ten-year-old Medha, whose crisp and confident delivery always got a reaction from the audience. And, from the soft-spoken Divya, whose sarcastic and mischievous commentary as the narrator stunned her friends, to Brendan and David, who had lived in South Asia but who never had a similar opportunity to immerse themselves in the intricacies of a place-based context and characters. The two months of developing a staged reading of Chughtai's story became all-consuming as each of us struggled with not only what our bodies could be un/trained to un/do, but also as every meeting of the collective was followed by emotionally charged reflections: What did it mean to learn about the politics of untouchability, sexual morality, and economics through our bodies? What did it mean to claim to know, understand, or stand with struggles in the subcontinent from our locations? What light did this process shed on our own stances and rigidities and on how we had chosen to expose our children to, or shield them from, these issues? It became clear that enacting the story meant learning and unlearning how privilege and pride, humor and hopes, insults and humiliations are internalized and resisted through our bodies.
As organizers of this work in Kunwarapur and Minneapolis, we found it instructive to reflect on the commonalities and disjunctures in the passions, processes, and products that have emerged in and through theater in these two very different contexts. Among the most generative for us is the question of when theater becomes community theater and what makes community theater successful? Does success reside in the creative and affective processes that lead to the creation and enactment of an aesthetically powerful product? Or, does the real test of success lie in that which comes after the enactment through a coming-together of people who become a collectivity?
If success implies advancing critical creativity, analysis, and vision through theater, then it is the emergence of the collective that makes such theater possible. This is a theater that is enabled and nourished by collective labor—the labor of grappling with and recognizing one another's journeys, silences, passions, and aspirations. The labor of working through the ups and downs of the creative process as well as the knots of our hearts, minds, and bodies. The labor of learning to dream together and to celebrate what emerges from laboring together so that those who draw inspiration and challenge from that theater can return to weave the next dream.

A long conversation with Özlem Aslan, Nadia Hasan, Omme-Salma Rahemtullah, Nishant Upadhyay, and Begüm Uzun in Toronto inspired me to think again about my role in SKMS.12 Can the term scribe capture the work that I often do with SKMS? As someone who does not inhabit the immediate space of the movement all the time, perhaps scribe is exactly what I have been at many occasions. But that is not all that I am, since I am also given—and claim—the space in the movement to raise the toughest questions I can think of. This responsibility has come with obvious risks. Yet, I take it seriously because, when a movement is being celebrated as being unique and successful, it is easy to slip into the same problems that we have been critical of. As somebody who is outside the immediate space of Sitapur, then, I try to ask questions that remind the SKMS about these risks and slippages. Why do I think I have this space? Because I have the trust that allows me to carry out this responsibility. For, the saathis can also question my practices, and I am also available to do what the Sangathan needs me to do. For instance, I can write in Hindi and English for the movement, mobilize resources to advance SKMS's work, help build connections, and mobilize support of various kinds. So in some ways my role is carved out.
At other times, however, I have asked myself and have been asked by academics in the United States if my relevance for the movement is over. There was a time when this anxiety led me to repeatedly pose a question before the saathis: "There is all of this terrific stuff happening in SKMS, so do you think that it is time for me, 'the academic,' to leave?" Saathis tolerated my question patiently for a couple of years, and then threw a question back at me: "How important do you think you are that you keep talking about withdrawing from SKMS? Why don't you stand in the next rally before everyone and say that, oh you know, me Richa Nagar, I am so important that I have just decided to leave, sorry I can't think of anything I can do anymore."
To receive this response to my anxieties was extremely helpful for me. What the saathis were teaching me through this question is that anyone who is committed to a struggle will need to find something to do that they know how to do best; that an alliance means that everyone must figure out ways in which they can creatively contribute to the struggle as a whole.
Surbala sometimes comes after weeks of organizing meetings and rallies and laboring in the heat for hours, and then sits down to embroider as a way to relax. It is a creative skill through which she expresses herself, and the embroidered material is sometimes sold by SKMS to help with the organizational work. Surbala once said, "Writing to you is what embroidering is to me. My embroidery supports the movement in the same way as your writing does. If my embroidery does not cause a crisis for me, why does your writing cause a crisis for you?" Surbala's question pushed me to reflect on the ways in which saathis process the same dilemmas that academics struggle with. It helped me locate my own labor as writer in relation to other forms of labor that enable the movement.

In November 2010, Dorothy Hoffman, the principal of Laura Jeffrey Academy, a girl-focused middle school in Saint Paul, Minnesota, invited me to talk to her class about the making of Playing with Fire, and the subsequent journey of the sangtins. A few weeks later, I received a letter from her, where she said
Sorry [for taking] so long in getting back to you after your visit with the 8th grade girls. Your time with them, and the manner in which you presented the experience of the Sangtin group, was exactly what they needed to take a giant step into what the class (year-long) was/is all about. It brought them from the highly self-conscious state of adolescence into the greater world and the world of women in the world. Your question about "pity"—bringing them away from it into admiration—helped them begin to differentiate between sympathy and empathy. The power they heard of and saw in the slides gave them an image of what a collective can accomplish bringin terms of support and change. . . . Jan Mandell, from Central High School Theatre, came in the afternoon and did some community building theatre activities with them—and it was evident that the morning with you had given them motivation to want to be together—to want/and dare to want to know one another better. They knew/know we have our own castes to wrestle with and that we avoid doing so every day in our classrooms and lives. The girls are hungry for guidance in how to go further—together— and I'm afraid they'll not get all they need right now. Sometimes, our accountability can only be for planting the seeds.
The responsibility to translate and represent implies continuously grappling with the question of whether we can represent ethically in ways that mitigate epistemic violence. But no matter how carefully one carries out that task, it is risky business to translate struggles in a manner that their complexities and insights can be recognized in locations far removed from where they are unfolding. While Dorothy Hoffman was able to do justice to my labor of representing sangtins' struggle, there are multiple examples of times when Playing with Fire has traveled with consequences that were in opposition to the spirit of the book.13 Yet, the conversations with Dorothy generated hope precisely because, as a teacher and poet, she was already immersed in the labor of unlearning and relearning in ways that resist resolutions and closures; that seriously question dominant assumptions about, and desires for, expertise; that recognize the necessity of becoming radically vulnerable in order to build trust and to undertake the very hard work of trying to get to a place from where one can simply hope to kindle a faith in dialogues.

No Accelerated Passport for Rambeti
In 2012–13, members of the Climate Change, Agriculture, and Food Security (CCAFS) Program of the Consultative Group for International Agricultural Research (CGIAR) and the international network Promoting Local Innovation (Prolinnova) expressed an interest in learning how the methodology of the Sangtin Writers could help them develop more sustainable partnerships with grassroots communities. This encouraged me to organize a series of email, phone, and Skype conversations between members of SKMS and CCAFS. The conversations focused on two points: whether and how CGIAR and Prolinnova could learn from SKMS in addressing the politics of social inequity and difference while addressing issues of access to livelihoods; and whether it was worthwhile for SKMS to devote its energies to building a dialogue with CCAFS and Prolinnova despite the violent histories and geographies against rural peoples that institutions such as CGIAR have enabled. The conversations led David Edmunds and Lini Wollenburg from CCAFS and Chesha Wettasinha from Prolinnova to extend an invitation to Rambeti, Richa Singh, and me to attend a workshop titled "Climate Change, Innovation and Gender" in Phnom Penh. Hosted by Prolinnova's Cambodia country team, the workshop organizers stated their aims, and their vision of SKMS's role in the workshop thus:
The purpose . . . is to stimulate research, development projects and information exchange networks that strengthen the ability of rural women and men to test and implement their ideas for improving agriculture in ways that simultaneously reduce poverty, food insecurity and greenhouse gas emissions. Addressing climate change in a way that is fair to rural women and men in the global south, who have contributed relatively little to the problem, will require two important social reforms. First, rural women and men must take on active leadership in designing projects and programs. SKMS has been remarkably successful in mobilizing rural women and men to change their lives, often in remote areas and with little or no support from outside organizations. Second, large research and development organizations must not undermine local initiatives once they are underway. SKMS has a unique, critical perspective on the work of international NGOs, research institutions, and development agencies and how they interact with grassroots movements. SKMS thus can help our grassroots partners in improving their mobilization efforts, and help large research and development organizations make reforms necessary so that they can enhance rather than weaken local innovation.14
I had no difficulty convincing the hosts at CGIAR of the importance of Rambeti's involvement in the workshop, and in helping them craft an invitation that underlined the critical insights that only she could offer as a dalit agricultural laborer who plays a leadership role in SKMS. However, getting a passport for Rambeti in time for the workshop was a different story. Rambeti required special permission from her district authorities in order to get a passport in hand within three months of her application. The district magistrate and the sub-district magistrate of Sitapur refused to sign a letter supporting SKMS's request for an accelerated passport for Rambeti on the grounds that they did not know rural laborers well enough to support such a request. Ironically, neither Richa Singh nor I as "representatives" of SKMS would have had any difficulty receiving such permission. While we were optimistic that Rambeti's passport would come through, we were tormented by the same old question: even after all the victories of SKMS's rank-and-file members, how is it that those in power can dismiss a dalit member as a representative of her own struggle but have no qualms about accepting a sawarn as the narrator of the same struggle?
The journey continues, as does the commitment to wrestle with this violence.

My nineteenth sleepless night in Cape Town. I am thinking of death. How it comes easily and is accepted easily by saathis in Sitapur. When we met in July, Roshan could not join us for the rehearsals, and saathis said he might not live long. Two weeks later, Kusuma's husband died of an unknown disease before he turned fifty. And I received news a few days ago that Radhpyari's son died of a snake bite in his village because he could not be taken to a hospital in time.
Deaths that dramatically end life—and hopes. Yet, saathis often swallow the sorrow of deepest loss by death. There is no desire on the part of saathis to translate or communicate these sorrows in the scripts that we create together. There is no assumption or expectation that the intimacy or intensity of these sorrows can be apprehended, even partially, by the currently available registers.
What does that say about the discourse of hope that we—the saathis and their supporters—have collectively refined and mastered in our rallies, meetings, speeches, and writing?
Or maybe a praxis of love and radical vulnerability is contingent on learning to accept that which cannot enter the realm of translation?